About Us
GOGI Korean BBQ offers a wide variety of delicious Korean dishes for the residents of Calgary to enjoy. With everything from combos that are perfect for feeding the family or a party, to barbeque dishes and chef specials, you are sure to find something delicious at the best value! If you are in the mood for great service, and classic Korean-style meals offered at a reasonable price, then GOGO Korean BBQ is a must try! Come on down to our restaurant today where we will be happy to serve you and your family! Kick off your authentic meal experience with a few Korean-style appetizers. You can't wrong with ordering the Spicy Rice Cake, Deep-Fried Boneless Chicken with Signature Sauce, or the mouthwatering deep-fried Pork Dumpling which comes with five pieces! For your main dish, order the classic Pork Bone Hot Pot that includes tender, meaty pork bone – perfect for sharing with two to three people! For those with a larger appetite, beef up your order with a side of perfectly steamed White Rice, or a warm and comforting soup like the Spicy Beef Soup with Glass Noodle. If that doesn't entice you, we have other amazing Korean-style dishes for you to try! From stews to cold buckwheat noodles, barbeque dishes, and so much more, we are confident you will find something appetizing on our menu! Check out our menu today and if you would prefer to stay home, you can place your order online for delivery or pickup! Start ordering now! View Full Menu!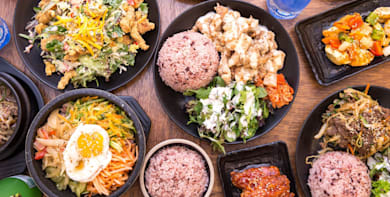 Reviews
Christine
"Our favourite kbbq place! It is very tasty :)"
2022-07-19
Menu
Contact Us
Find Us
2320 4 St NW, Calgary, AB, Canada, Calgary, T2M 2Z6
Opening Hours
Tuesday
4:00 PM - 9:30 PM
Wednesday
4:00 PM - 9:30 PM
Thursday
4:00 PM - 9:30 PM
Friday
11:30 AM - 9:30 PM
Saturday
11:30 AM - 9:30 PM
Sunday
11:30 AM - 9:30 PM
Please note, delivery times may vary.
We deliver to
T1Y, T2A, T2B, T2C, T2E, T2G, T2J, T2K, T2L, T2M, T2N, T2P, T2R, T2S, T2T, T3A, T3B, T3C, T3E, T3G, T3H, T3J, T3K, T3L, T3N